Video & Animation Strategies
Today's engagement strategies depend upon delivery of rich experiences, most commonly supported by impactful imagery that videos and animations deliver particularly well. By using video and animation marketers are able to distribute messages that are language independent and convey key concepts clearly and quickly. A video or animation strategy can empower brands with the ability to break through the noise of other advertising, and with optimized channel capabilities, can now be delivered whenever and wherever prospects happen to be. These engagement strategies have the potential to exponentially increase conversions at modest cost, are structured by Zipstripe with Google certified Video Marketing personnel. Zipstripe video /animation strategies offer:
Campaign performance benchmarking for optimization opportunities
Insights into consumer behaviours through clickthroughs, website path tracking, A/B testing
Message testing with defined cohorts, prior to extensive budget commitments
Targeting opportunities by geography, proximity, gender, age, and interests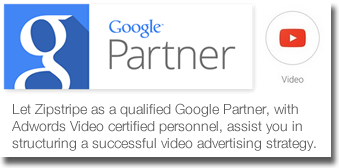 Videos & Animations Cut through Barriers and Clutter
Increasingly, videos and animations help to tell brand stories, in just a few seconds or a matter of minutes. Some argue that it's more about time savings in consuming everyday content, and about getting the most out of life. Either way, consumers have expectations to get things done faster - and a clear, accurate and presentable cinematic presentation delivers a message like no other medium can.
Use Video to Effectively Explain the Brand
"Branded Video Content" include commercials or how-to segments that are fully or co-produced with a brand's product, positioning, messaging, and target audience focus. The desired result is a favourable response by consumers through engagement, click-throughs to conversion opportunities and sharing for distribution through social channels. Videos and animations clearly communicate to the viewer or reader with engaging branded content.
The Time is Now - Video is Hot and Getting Hotter
There has never been a better time to gather data, leverage information and communicate to consumers. Consumers are adopting video as their primary form of communication. According to Cisco's research:
By 2017 nearly 75% of the world's mobile data traffic will be video. According to Cisco, mobile video is expected increase 13-fold between 2014 and 2019. Already, mobile video traffic exceeded 50 percent of total mobile data traffic by 2012 and grew to 55 percent by the end of 2014. (Source: Cisco Whitepaper)
Zipstripe Video Conversion Optimization
Video or animation can produce impactful messaging to varied target audiences at very inexpensive cost. Zipstripe structures video and animation strategies to support effective conversion opportunities in today's online environment through its Google certified Adwords Video advertising specialist.